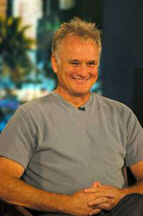 A word from Leo Gorcey, Jr.
"Finally, true high quality versions of the Eastside Kids films are
available on DVD! They're from Reelclassicdvd.com. I have them all and I
personally recommend them."
Find out how to get Leo's wonderful book "Me and the Dead End Kid"!
Click here!
---

The Eastside Kids Special Collection

Since the advent of video, no group of films has received more abuse than the films of The Eastside Kids. Having been in the public domain for years, they've been released in wretched, cheap VHS and DVD versions that are often unwatchable. In the few cases when they're actually made from film elements, the source materials are usually beat up, incomplete, well worn dupes. Many of the DVD versions in release are made from VHS tapes that were, in turn, made from these awful sources!
Enough is enough!
We've given these wonderful films the respect they deserve. The Reelclassic versions are brand-new transfers made directly from sharp original prints! They look great and you'll never find better DVD releases anywhere!
These films, although made with cheap sets and tiny budgets, were all hugely successful. They often featured big stars who were either on the way up or on the way down the ladder of fame. Robert Armstrong, Billy Gilbert, Gale Storm, Walter Woolf King, Dave O'Brien, J. Farrell MacDonald and Charlotte Henry (among many others) all made appearances. Something else featured in these films, however, are great acting, terrific comedy, moving drama, lots of action, solid stories and a lot of heart!
We're very proud to offer the Eastside Kids Special Collection Editions. Check out these wonderful new versions. You won't be disappointed!
---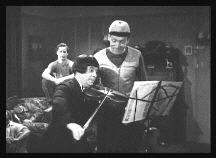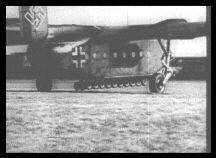 LET'S GET TOUGH (1942)
and TOP SECRET NAZI AIRCRAFT FOOTAGE (1943)
LET'S GET TOUGH starring Leo Gorcey, Huntz Hall, Gabriel Dell, Bobby Jordan, Ernie Morrison and Robert Armstrong. After trying to enlist in every branch of the armed forces and being rejected, the Eastside Kids discover a plot by Japanese and German spies to sabotage cities in the U.S.! In the process, the boys find themselves in a spooky house with trap doors, secret passages and mysterious goings on! Robert (King Kong) Armstrong appears as the wise cop, "Pops" Stevens.
TOP SECRET NAZI AIRCRAFT FOOTAGE Now here's a film that is truly unique! An authentic secret World War II aircraft training film that was "liberated" behind enemy lines and brought home by an American soldier. This is a fascinating look at experimental World War II German aircraft. Several different types of transports are shown, both powered and gliders. Seen on the ground and in flight ready for combat. This film was saved and preserved just in time to prevent shrinkage from destroying it forever!
---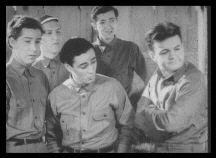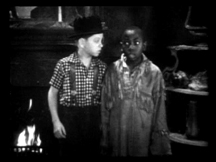 MR. WISE GUY (1942)
and MICKEY'S COVERED WAGON (1933)
MR. WISE GUY starring Leo Gorcey, Huntz Hall, Gabriel Dell, Bobby Jordan, Ernie Morrison and Billy Gillbert. The boys are accused of stealing a truck, a crime they did not commit, and are sent to reform school. Meanwhile, Bill Collins, Danny's brother, is framed for a murder and sentenced to death. With the help of a newsreel shown in the reform school, the kids find out that a crooked bumbler (Billy Gilbert) is involved in the plot and escape to prove Bill's innocence!
MICKEY'S COVERED WAGON starring Mickey Rooney, Billy Barty and Jimmy Robinson. Directed by Jesse Duffy. This film is an entry from the long running (1927 to 1934) Mickey McGuire series. Mickey and the gang begin an elaborate search for buried treasure complete with animal driven vehicles. A rich, spoiled rival tries to stop them by blowing them up! When a terrific thunderstorm ruins their plans, the gang take shelter in a haunted house and are terrified out of their wits by the spooky inhabitants!
---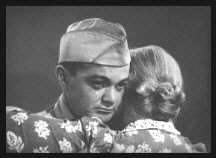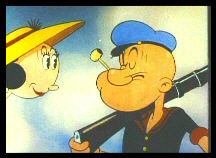 FOLLOW THE LEADER (1943)
and POPEYE THE SAILOR MEETS ALI BABA'S FORTY THIEVES (1937)
FOLLOW THE LEADER starring Leo Gorcey, Huntz Hall, Gabriel Dell, Billy Benedict and J. Farrell MacDonald. Mugs is crushed after being booted out of the army for poor eyesight, but when he and Glimpy return home they discover Danny has been falsely accused and jailed for committing a warehouse robbery. Mugs soon suspects that Spider, a new member of the gang, is the real culprit. Things get complicated when Spider turns up dead and Mugs is the most obvious suspect! J. Farrell MacDonald appears as Clancy, the cop.
POPEYE THE SAILOR MEETS ALI BABA'S FORTY THIEVES starring Popeye, Olive Oyl, Wimpy and Bluto (as Abu Hassan). This is the second in a series of three excellent two reel Popeye adventures produced in Technicolor! After Olive is kidnapped by Abu and his forty thieves, Popeye must find their cave hideout and, with the help of his trusty spinach, do a little two-fisted house cleaning.! Rollicking fun from the Fleischer studios in a transfer of awesome quality, you will never find a better version on DVD!
---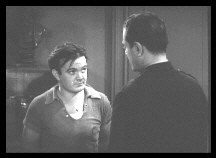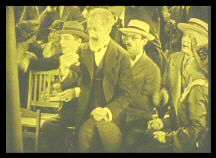 TEMPORARILY UNAVAILABLE
BOWERY BLITZKRIEG (1941)
and UPPERCUTS (1926)
BOWERY BLITZKRIEG starring Leo Gorcey, Bobby Jordan, Huntz Hall and Ernie Morrison. Danny is training to become a boxer, but quits when he gets mixed up with gangsters. Because of a rumor started by one of the crooks, Danny and Mugs become bitter enemies and Mugs takes Danny's place training for the Golden Gloves. On the night of the big fight, Danny is in the hospital after being wounded in a shoot-out with the police and Mugs, his real friend after all, comes to his rescue. Charlotte Henry (Bo Peep from Laurel and Hardy's BABES IN TOYLAND) appears as Danny's sister. This is the first Eastside Kids appearance of Huntz Hall, whose character here is called "Limpy". While our DVD transfer is excellent, there is some evidence of minor wear and splices from the original source material.
UPPERCUTS starring Jack Duffy. A silent Christie comedy. The anti-prize fight club needs a new president. Jack and his rival, Hiram Prune, decide to settle things once and for all with (what else?) a prize fight! Jack recruits his butler, James, to throw the punches. James has fighting experience since he lives with his wife AND mother in law. His opponent is Battling Bittsky (half brother of Two Bittsky). When things start looking bad for James, a riot ensues. The police chase Jack all over town as he uses a bicycle, a truck and his wits to get away! Things get a little warm for him when he hides in an outdoor incinerator! This is a very funny film with good production values, plenty of laughs and action! Very few of the comedies produced by Al Christie survive, but this film is a terrific example!
---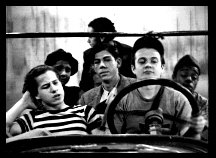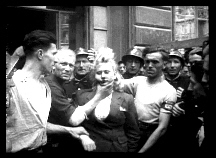 FLYING WILD (1941)
and VIOLENCE & VICTORY WWII (1944)
FLYING WILD starring Leo Gorcey, Bobby Jordan, Ernie Morrison and Donald Hains. The boys, with the exception of Mugs who doesn't approve of work, are employed at an aviation factory. When strange "accidents" begin to occur, they suspect that a doctor, who operates a flying ambulance service, may actually be a spy bent on selling secrets to the enemy!
VIOLENCE & VICTORY WWII (1944)
This film contains newsreel footage of the US re-capture of Guam and the liberation of Paris. A very graphic film that details the ugliness of war on the battlefield and in the streets. On Guam, U.S. Marines engage in a fierce battle using gunfire, artillery and flame-throwers against the enemy, the result of which is plainly seen with 21,000 Japanese troops killed. In Paris, the people rise up against Hitler's occupying army. Nazi sympathizers are shot and beaten in the streets. Sniper fire erupts as Charles de Gaulle visits Notre Dame! This film is an important historical document which frankly illustrates the grim reality of war.
---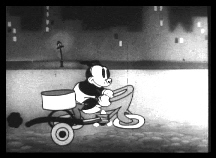 SMART ALECKS (1942)
and YOU DON'T KNOW WHAT YOU'RE DOIN (1931)
SMART ALECKS starring Leo Gorcey, Huntz Hall, Bobby Jordan, Ernie Morrison and Stanley Clements. When Danny accidentally captures Butch Broccali, a wanted criminal, he receives a $200.00 reward. But the rest of the boys, feeling they're entitled to an equal share, kick him out of the gang. When Butch escapes from prison, he tracks down Danny for his revenge! With Gale Storm as Danny's sister, Walter Woolf King as Dr. Ornsby and "Slapsie Maxie" Rosenbloom as Butch.
YOU DON'T KNOW WHAT YOU'RE DOIN'
In this wild joyride cartoon from Warner Brothers, Piggy takes his girl out for a night on the town. At the end of the night, his drunken car takes him on a surreal ride through the city! This is the first screen appearance of the "Piggy" character and features music from Gus Arnheim's band!
---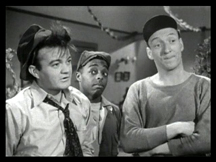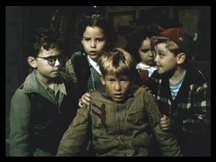 GHOSTS ON THE LOOSE (1943)
and WHO KILLED DOC ROBBIN (1948)
GHOSTS ON THE LOOSE starring Leo Gorcey, Huntz Hall, Bobby Jordan, Ernie Morrison, Billy Benedict, Ava Gardner and Bela Lugosi. When Glimpy's sister goes off on her honeymoon with her new husband the gang, as a surprise, decide to decorate the couple's newly purchased house. Things get a bit complicated when they get the wrong address and wind up trying to decorate the haunted house next door! Ava Gardner and Bela Lugosi join the fun in this action packed horror/comedy. A great entry from the Eastside Kids series.
WHO KILLED DOC ROBBIN starring Larry Olsen, Dale Belding, Eilene Janssen, Peter Miles, Ardda Lynwood and George Zucco. In the late 40's, the Hal Roach Studio made an attempt to return to a series of "kid" films in the spirit of Our Gang. The result was two short features, "Curley" and "Who Killed Doc Robbin", both produced in Cinecolor, a two-color process. When a local physician is apparently killed in an explosion, the gang become suspicious and look for clues in the doctor's creepy old house. Another fun horror/comedy with plenty of thrills and surprises!
---