Movies From the Sound Era

CLICK HERE FOR THE EASTSIDE KIDS
SPECIAL EDITIONS
WITH MORE SHORTS AND CARTOONS!
---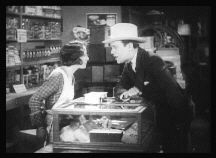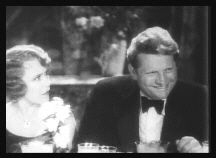 THE MEDICINE MAN (1930)
and WARNER BROTHERS SILVER JUBILEE (1930)
THE MEDICINE MAN starring Jack Benny: In 1930 Jack Benny had not yet found his niche in the entertainment field although he had appeared on the stage and had been the master of ceremonies in one of the top early movie extravaganzas. His comedy routines and mannerisms had not yet been developed and honed to the degree that we find with his advent to the field of television. Despite this, Benny is highly entertaining in this very early 1930 Tiffany production playing a medicine man in a traveling tent show aided and abetted by con men Georgie Stone and Tommy Dugan. After meeting Betty Bronson (best know as the star of Paramount's silent PETER PAN) and her mean and evil father, played to the hilt by E. Allyn Warren, Benny reforms (we think) and at the end of the film marries little Betty, taking her away after the father is "accidentally" shot by one of the workers in the father's store. All of the action takes place in one of the delightful little rural towns that we rarely see in movies today.
WARNER BROTHERS SILVER JUBILEE directed by John Adolfi. All of the stars of Warners as well as the top musical composers of the day appeared in this unusual film which was made in celebration of the studio's 25th anniversary as well as a vehicle to promote the upcoming films of its stars including John Barrymore and George Arliss.
---
TEMPORARILY UNAVAILABLE
BUSTER KEATON AT THE SPEED OF SOUND
MR. KEATON AT EDUCATIONAL PICTURES
Comedy legend Buster Keaton is best known for his gems and masterpieces from the silent era such as ONE WEEK, SHERLOCK, JR and THE GENERAL. However, Keaton had a long and varied career in the sound and television era (three times as long as his career in silents, in fact!) that should not be overlooked - not by a longshot.

From 1934 to 1937, Keaton made sixteen "two-reel" comedies for Educational Pictures - inexpensive films which always promised to be "the spice of the program". Leonard Maltin has said that "they are not in the same league as Keaton's
silents, but they show a comic talent very much alive." Indeed, when considering Keaton's ingenuity as a comedy tactician in the face of extreme budget and time constraints in the making of the Educationals - the films are something of a marvel.

These two volumes bring you eight of these rare films. Each volume contains an additional "hidden" bonus Buster bit!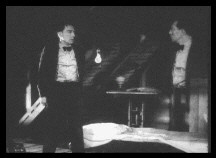 BUSTER KEATON AT THE SPEED OF SOUND
MR. KEATON AT EDUCATIONAL PICTURES Volume 1

ONE RUN ELMER (1935) finds Buster as the sole proprietor of a gas station in the middle of the desert. His perpetual arch-nemesis Harold Goodwin (COLLEGE, THE CAMERAMAN) sets up a rival station and starts a price-war. The later half of the film involves an elaborately outlandish baseball game in which both Buster and Harold participate to impress a new local girl. (Baseball was one of Keaton's real-life passions.)

HAYSEED ROMANCE (1935) Buster answers an advertisement for a farmhand - but finds himself more of a "slavehand" at the hands of a large domineering woman - who happens to have a pretty niece. Highlights include Buster trying to get
to sleep in a leaky attic during a rainstorm (with disastrous results) and a surreal heart-to-heart encounter with his "conscience"!

MIXED MAGIC (1936) "The Great Spomoni" has just fired his male assistant and at his lovely female assistant's urging, hires Buster to replace him in his magic act. Needless to say that Buster makes a shambles of everything from "The Oriental Barrel Mystery" to "The Mongolian Duck Trick" with hilarious results.

LOVE NEST ON WHEELS (1937) Buster and his hillbilly family (played by Keaton's actual mother, sister and brother!) run a dilapidated hotel (replete with a horse-drawn elevator!) which will be taken from them by the town banker (Bud Jamison) if the mortgage isn't paid. Buster hopes to raise the money by selling a trailer to some newlyweds who come to stay - but first he has to remove the cow that his Uncle Jed (Al St. John) is currently storing in it.
---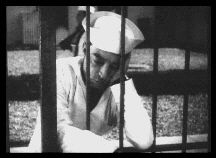 TEMPORARILY UNAVAILABLE
BUSTER KEATON AT THE SPEED OF SOUND
MR. KEATON AT EDUCATIONAL PICTURES Volume 2

TARS AND STRIPES (1935) Filmed at the Naval Training Station in San Diego, Buster is an apprentice seaman in the Navy - but he can't seem to get the hang of things. Game attempts at painting masts, tying knots and cleaning guns - all end up getting him in dutch with his exasperated CO (Vernon Dent) whose girl has an eye for Buster. One way or the other Buster will end up in the brig.

THREE ON A LIMB (1936) Scoutmaster Buster meets a pretty carhop at a drive-up diner but runs afoul of her traffic cop suitor (Harold Goodwin). Buster goes back with the girl to meet her folks - who naturally disapprove. After several misadventures and fighting off two potential grooms, Buster manages to tie the knot by the fadeout.

GRAND SLAM OPERA (1936) is largely considered one of Keaton's best starring sound films. In it, Buster leaves his hometown to make good in the big city by performing his juggling act on a radio amateur hour. During the course of the
film, Buster sings, performs tricks, dances and even recreates one of his vaudeville routines with that rapscallion, Harold Goodwin!

BLUE BLAZES (1936) Buster would be a great fireman....if he could only manage not to fall off the firetruck! His frustrated captain sends him to a sleepy fire station out in the country where he can hopefully keep out of trouble. No such luck. After taking another tumble off the truck, a bewildered Buster ends up at the house of his captain inquiring as to where the fire might be. By sheer happenstance a fire does break out - at the captain's house! Buster springs into heroic action and saves the day.
---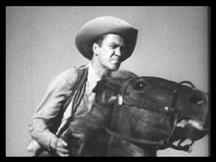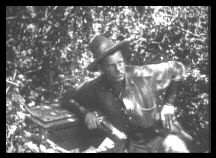 GUNTOWN (1946)
and THE PRISONER (1909)
GUNTOWN starring Kirby Grant, Fuzzy Knight, Lyle Talbot and Louise Currie. When Indian agent Kip Lewis (Grant) arrives in town he is accused of robbing the payroll stage and almost lynched on the spot, but Buckskin (Currie) has witnessed the robbery and reveals the culprits as Indians. But there's a plot behind the payroll heists. Kip discovers that the thieves may be white men of the town in disguise! There's plenty of action and humor as well as surprisingly good acting in this taught little western. Never a dull moment!
THE PRISONER (a.k.a. BRONCHO BILLY'S SENTENCE) starring Broncho Billy Anderson. Billy is an outlaw who commits a robbery and, in his attempt to escape the law, hides out in a neighboring house where he abuses a young girl and her grandfather. After being shot and wounded, he is cared for by a kindly old religious couple. Eventually, he sees the light and turns himself in.
---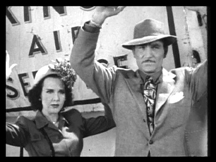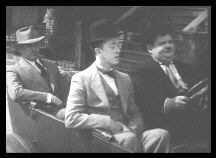 DRAGNET (1946)
and THE STOLEN JOOLS (1931)
DRAGNET starring Henry Wilcoxon, Virginia Dale, Douglass Dumbrille and Mary Brian. Directed by Leslie Goodwins. Geoffrey James, a Scotland Yard inspector, arrives in America to help investigate a series of mysterious murders and winds up on the trail of a priceless collection of stolen jewels. A great little mystery film from poverty row, this film features a terrific cast of characters with comedy and bits of film noir thrown in for good measure. Very entertaining with a good script, great acting and a believable, solid plot.
THE STOLEN JOOLS starring Laurel & Hardy, Buster Keaton, Joe E. Brown, Eddie Kane, Joan Crawford, Norma Shearer, Our Gang, Edward G Robinson, Barbara Stanwyck, Gary Cooper and many more! This short subject was originally produced to raise funds to fight tuberculosis for the National Variety Artists. All Hollywood turns out to hunt down a thief and recover Norma Shearer's---you guessed it---stolen jewels!
---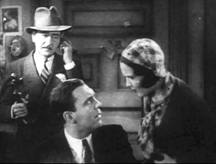 THE FRONT PAGE (1931)
Directed by Lewis Milestone; the first and best version of this great story with Pat O'Brien, Adolphe Menjou, Mary Brian, Mae Clarke, Frank McHugh, Edward Everett Horton and Slim Summerville. Pat O'Brien plays one of a motley group of wisecracking reporters. Pat is tired of the game and wants to settle down and get married. When a convict, who is sentenced to die by hanging, suddenly escapes all hell breaks loose and Pat is thrust into the middle of the action! A great early sound comedy with realistic dramatic elements and fine performances by an outstanding cast.
---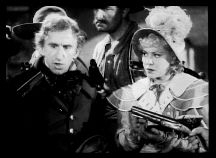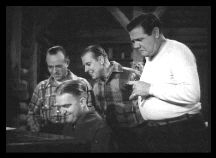 LAND WITHOUT MUSIC (1936)
and HOME RUN ON THE KEYS (1937)
LAND WITHOUT MUSIC starring Jimmy Durante and Richard Tauber. The people of the country of Lucco simply love music. They sing and play their musical instruments all day long. In fact, that's all they do. Nobody works! The country is in debt to Austria to the tune (pun intended) of 10 million crowns. When the Princess Regent learns of this she promptly declares all music forbidden in an effort to force her citizens to get back to work! This is a very good musical comedy with nice production values, photography and period settings. It's also a heck of a lot of fun!
HOME RUN ON THE KEYS starring Babe Ruth and Zez Confrey. What musical short would be complete without Babe Ruth? Babe and his pals are relaxing in their hunting lodge while Babe reminisces about his great days of baseball. For our convenience, these scenes are superimposed in the fireplace as Babe contemplates. It doesn't take long for our pals to come up with a great idea -- a song about baseball! They're so pleased with it they even perform it on the radio!
---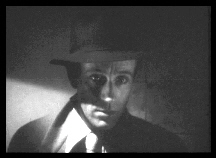 PIMPERNEL SMITH (1941)
Updating his famous starring role from the 1934 film, THE SCARLET PIMPERNEL - Leslie Howard (PYGMALION, GONE WITH THE WIND) plays the seemingly absent-minded Cambridge archaeology professor, Horatio Smith who secretly rescues intellectuals, artists and humanitarian opponents from the clutches of the Nazis. Traveling to Berlin under the guise of conducting an archeological dig for remnants of an ancient Aryan civilization. Armed with a band of students - Smith
cagily engages in a game of cat and mouse with the commandeering General Von Graum (deliciously acted by Francis Sullivan) while unexpectedly becoming smitten with the daughter (the strikingly lovely Mary Morris) of one of his rescues. Throughout the proceedings the always elegant Howard exudes intelligence, wit and a delightfully understated sense of humor. The film was an intensely personal project for Howard (who also produced and directed) and his portrayal of blundering, but nonetheless dangerous, top-level Nazis is nothing short of brilliant. His own exquisite performance ends with one of the most stirring monologues ever committed to film. And as tragic irony would have it, Howard met his demise just two years later at the hands of the antagonists he so strongly rallied against in this film. The theatrical trailer for PIMPERNEL SMITH is included on this disc.
---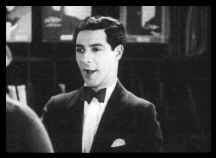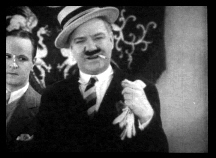 LUCKY BOY (1929)
and THE GOLF SPECIALIST (1930)
LUCKY BOY starring George Jessel and Margaret Quimby. In 1927, Georgie Jessel made what he himself referred to as the biggest professional mistake of his life. When he was offered the starring role in THE JAZZ SINGER, he passed. Unable to come to a satisfactory financial arrangement with Warner Brothers, he walked away from the project thereby setting the stage for Al Jolson's smashing success! Made two years later, LUCK BOY is Jessel's JAZZ SINGER. The two films share a lot of similarities in that they are both part-talkies and contain many of the same basic plot elements. Jessel portrays a young Jewish jeweler who works in the shop of his strict father. He hates the jewelry business. What he really wants to do is sing and entertain on stage. After pawning his beloved mother's earrings, he rents a theater in hopes of putting on his own show and proving to his father that he can become a stage success. Unfortunately, Georgie's spendthrift ways prevent him from making his final payment to the theater owner and the show is canceled minutes before its opening night debut! Distraught, Georgie runs away to California to prove himself once and for all. This film is packed with entertainment and has a solid plot with moments of comedy and drama. Jessel does a wonderful job and belts out some great songs along the way, including "My Mother's Eyes", his signature theme. This title is very rare and while the transfer to DVD is excellent, there is some evidence of some wear and decomposition from the original film.
THE GOLF SPECIALIST starring W.C. Fields, produced by Mack Sennett. This is Fields' first sound motion picture. For the first time audiences were treated to the voice and verbal bits of business that made Fields famous on stage and in his later films. Fields portrays a deadbeat guest at a posh Florida resort. He is joined by other nutty characters including an angry fishing boat captain, a jealous hotel detective and the detective's overly flirtatious young wife. Fields, accompanied by the flirt, goes out on the links to perform his famous golf routine but he also takes the time to abuse a young child, a (stuffed) dog and his hapless caddie!
---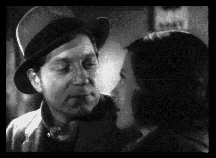 PORT OF SHADOWS (Le Quai des Brumes) (1938) is one of the truly great classics of French cinema. Directed by Marcel Carne and written by Jacques Prevert (both of whom would later collaborate on CHILDREN OF PARADISE) the film was an early influence on what was to soon become "film noir". The incomparable Jean Gabin (PEPE LE MOKO, GRAND ILLUSION) stars as a world-weary soldier-deserter seeking passage. Shortly after being befriended by a stray dog, his wanderings find him in a port town where a chance-encounter with a kindly drunk leads him to an isolated bar on the outskirts - a place which clearly offers sanctuary to lost souls such as him. There he meets a sad and troubled young girl (Michele Morgan) and becomes entangled in her woes which involve her enigmatic guardian (Michel Simon) and a hotheaded gangster (Pierre Brasseur). It soon becomes painfully clear to both of them that they are in love, but their respective dilemmas - now intertwined - have them on a collision course with fate. At times both haunting and poetic, (with low-key photography and melancholy scoring to match) this is a masterful film which is hard to shake once experienced and will likely stay with you for a lifetime. In French with English subtitles.
---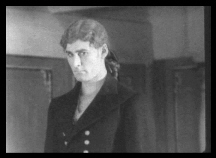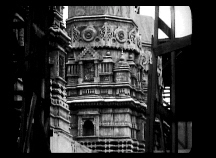 IN THE WAKE OF THE BOUNTY (1932)
and GHOSTS OF HOLLYWOOD (1931)
IN THE WAKE OF THE BOUNTY starring Errol Flynn in his first screen appearance! This is a dramatic account of the notorious mutiny of the Bounty...no, wait - it's a documentary about the natives of Tahiti and Pitcairn Island...hold on - it's a travelogue...hey, are those girls naked? Actually this film, an Australian production, doesn't know what it wants to be. The dramatic elements are unintentionally hilarious with acting that is, by turns, wooden and way over the top. The flimsy sets look as though they were hastily assembled for a grammar school play! But, oddly, this is not a bad film. When it switches gears to the documentary and travelogue sequences, the photography is simply spectacular and even breathtaking. We also learn what happened to the Bounty mutineers and their descendants and how they lived in 1932. We are even treated to a glimpse of the undersea wreckage of the Bounty herself. This is a dubious start to Errol Flynn's career, but a fascinating film nonetheless! By the way...the girls ARE naked!
GHOSTS OF HOLLYWOOD narrated by William Mac Innes. This is a short documentary that brings us to the decaying and forgotten studios of the silent days. We see the Sennett, Metro and DeMille studios in crumbling ruins. We get a peek at the former dressing rooms of Mabel Normand and Rudolph Valentino. We even travel to Falcon Lair, Rudy's legendary mountaintop mansion! There are scenes of the once mighty sets built by Douglas Fairbanks for ROBIN HOOD and D.W. Griffith for INTOLERANCE (although our narrator seems blissfully ignorant of this). All is not doom and gloom, however. We also journey to the new studios of Warner Brothers, Universal City, Fox, MGM and RKO! This is a great little film that is packed with interest for any fan of motion picture history!
---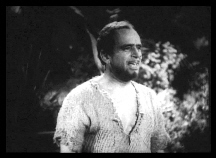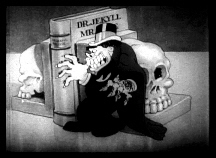 TEMPORARILY UNAVAILABLE
MR. ROBINSON CRUSOE (1932)
and THREE'S A CROWD (1932)
MR. ROBINSON CRUSOE starring Douglas Fairbanks, directed by Edward Sutherland. In this, one of Fairbanks' four talking pictures, Doug bets a friend $1,000.00 that he can live alone on a deserted south sea island and survive. Not only does he survive, but he uses his wits to make himself a beautiful tree house home and fills the island with innovative labor saving devices! When a beautiful native girl escapes from her fiancé on a neighboring island, she finds herself caught in the net of one of Doug's traps. Her angry fiancé (with a large group of friends) soon arrives and things turn hostile as they attempt to roast Doug on a spit! This Fairbanks film hearkens back to his glory days in silent film. It's full of the high spirit, optimism and adventure that made him one of the biggest stars ever and, even at 49, his athletic ability seem undiminished! Much of this film was made on location in Tahiti, Samoa and Fiji and it benefits from the beautiful, lush surroundings. It features a wonderful, evocative score by Alfred Newman. Although the quality of this DVD transfer is very nice, some wear from the original film is visible.
THREE'S A CROWD. This delightful Warner Brothers cartoon opens with an old man reading before the fireplace. When he goes to bed, the characters from his books come to life and emerge for a night of fun! Alice (from Alice in Wonderland) turns on the radio and starts the musical romp which includes Robinson Crusoe, The Three Musketeers, Rip Van Winkle, Tarzan, Uncle Tom and Robin Hood. When Mr. Hyde kidnaps Alice, the characters join forces for her rescue!
---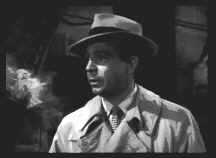 QUICKSAND (1950)
and A STUDY IN PANIC (1954)
QUICKSAND starring Mickey Rooney, Jeanne Cagney and Peter Lorre. Directed by Irving Pichel. Rooney is Dan Brady, a garage mechanic. Just a regular fellow trying to make a living. When he's short of cash for a hot date, he doesn't see anything wrong in borrowing $20.00 from his employer's till until payday. But when the bookkeeper shows up early, he's got to replace the money fast! This minor crime escalates into another and another - each progressively worse - starting Brady down a slippery slope and into a figurative mire of quicksand from which there is no escape! This is a terrific movie with elements of film noir. Great performances by Rooney and Cagney and a nice creepy/sleazy turn by Lorre! Watch for a very young Jack Elam in a small role.
A STUDY IN PANIC starring Dick Powell. In this television drama from STAR PERFORMANCE, Dick Powell portrays Fred Jordan, a wise guy columnist for a big city newspaper. When he writes a smug column about normal men who panic like animals during a fire, he receives a letter from a maniac who promises to show him the true meaning of panic. The deranged letter writer threatens to kill Jordan sometime within the next 24 hours! A dark, superb example of film noir with plenty of atmosphere, humor and intrigue!
---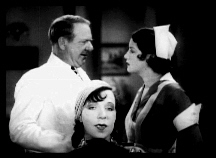 HALF SHOT AT SUNRISE (1930)
and THE DENTIST (1932)
HALF SHOT AT SUNRISE starring Bert Wheeler and Robert Woolsey. Wheeler and Woolsey are a couple of soldiers who are AWOL in Paris during World War I. George McFarlane portrays the flirty Colonel Marshall who is determined to catch them. This won't be so easy since the boys manage to change their ranks and identities at will. They even manage to steal their own images from a photograph! There's plenty of lunacy and wise cracks - even a Chaplinesque skating routine and an eccentric fountain dance!
THE DENTIST starring W.C. Fields. Fields at his cantankerous best! After creating mayhem at the golf course, Fields returns home to his dental practice where he is tormented by his defiant daughter and some of the nuttiest patients to ever rinse and spit!
---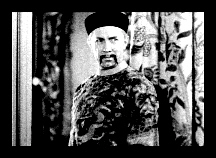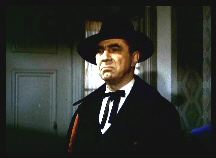 BELA LUGOSI DOUBLE FEATURE
THE MYSTERIOUS MR WONG (1935)
and SCARED TO DEATH (1946)
THE MYSTERIOUS MR WONG starring Bela Lugosi, Wallace Ford and Arline Judge. Lugosi is Fu Wong, your typical evil Chinese mastermind with a Hungarian accent. He and his henchmen terrorize Chinatown in a quest to obtain the twelve coins of Confucius which will give Wong tremendous powers. The only thing standing in his way is wisecracking reporter, Jay Barton (Ford).
SCARED TO DEATH starring Bela Lugosi, George Zucco and Nat Pendleton. A woman tells the story of her death in flashback from her slab in the morgue. Lots of creepy goings from a doctor with a secret past, a mysterious hypnotist, a bumbling private eye and an angry midget! Lugosi's only color feature, our version comes from the best source materials and looks terrific!
---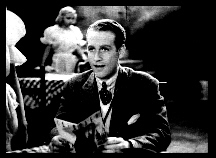 THE FLYING DEUCES (1939)
and MONTMARTRE MADNESS (1939)
THE FLYING DEUCES starring Stan Laurel, Oliver Hardy, Jean Parker, Reginald Gardiner, Charles Middleton and James Finlayson. Directed by A. Edward Sutherland. Ollie meets Georgette, the love of his life, in a French cafe. When she rejects his proposal, Ollie decides to end it all by drowning himself. Stan, naturally, is expected to do the same. Their suicide attempt is interrupted by Francois (Gardiner), who suggests they instead join the Foreign Legion "to forget". One of The Boys' funniest feature comedies and better than the Hal Roach films from the same era, our version is not your typical rotten quality video release. Ours is made directly from a rare high quality reduction negative.
MONTMARTRE MADNESS starring Harry Stockwell. Speaking of French cafes, in this musical short Harry Stockwell wanders into one and belts out a tune. This is followed by one of the wildest, most violent Apache dances ever seen on film!
---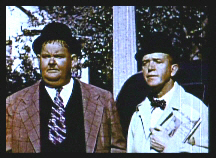 LAUREL AND HARDY "RARITIES"
This DVD contains five interesting and unusual films with Stan and Ollie. There are two silent solo shorts in which the boys are prominently featured (but without top billing) in which they each perform hilarious sequences in drag! TREE IN A TEST TUBE shows the boys together in their only existing color film. There's also a brief home movie of Stan and Ollie together in later years and footage of Stan Laurel's Funeral.
CUPID'S RIVAL (1917) starring Billy West, Oliver Hardy and Leo White. Here's a rare treat! Billy West does his incredible "dead-on" Chaplin impersonation supported by a very young Oliver Hardy (billed here as Babe Hardy). Billy is the janitor and all 'round handy man at a rat infested hotel. Hardy is a starving artist who is so hungry he eats his own dinner plates! He suspects his girl friend (Ethel Burton) is having an affair with a rival artist across the hall and disguises himself as a woman to get to the bottom of things! West, meanwhile, drives everyone in the hotel crazy with his Chaplinesque accidents, stunts and gags. The film culminates in a wild chase and gunfight fueled by alcohol! The accuracy of West's Chaplin is truly uncanny! Presented with an old-time jazz music score.
EVE'S LOVE LETTERS (1927) starring Agnes Ayers, Forrest Stanley and Stan Laurel. Eve and Adam (Ayers and Stanley) are a happily married couple until a mysterious blackmailer threatens to give Adam Eve's love letters to an old flame. Anotole, the butler (Laurel), joins forces with Eve to get the letters from the blackmailer before her husband can see them. This is a fun situation comedy with plenty of gags and Stan masquerading as a woman of loose morals! Presented with an old-time jazz music score.
TREE IN A TEST TUBE (1943) starring Stan Laurel and Oliver Hardy. Narrated by Pete Smith. This is a wartime film produced to promote wood conservation and is virtually the only existing color film featuring Stan and Ollie. Pete Smith encounters the boys on a quiet street and asks to examine the contents of their suitcase. As they drag out garments and personal belongings, Smith points out that everything they have has been manufactured, in some way, with wood products. It's a real treat seeing the boys in color and, although the film is brief, they find ample opportunity for a few gags! This film is essentially silent with the soundtrack consisting of music, sound effects and, of course, Smith's narration.
LAUREL AND HARDY (1957) starring Laurel and Hardy. This is brief home movie footage made of the boys in their declining years. Hardy, though lively, was quite ill at the time and his thin physique is a bit of a shock. He would pass away in August of that year. In spite of this, the boys appear happy and in good humor. The film was shot by Andy Wade, who was a teenage friend of Stan's. Sadly, Wade also died shortly after making this film. Presented in black and white, silent.
STAN LAUREL FUNERAL (1965)
This is news footage from the funeral of Stan Laurel. Many of the stars from the past and present were in attendance including Dick Van Dyke, Buster Keaton, Patsy Kelly, Joe Flynn and Tim Conway (appearing in McHale's Navy at the time), Hal Roach, Jr., Pat Buttram and Alan Mowbray. Pesented in black and white, silent.
---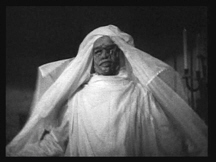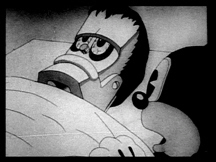 THE MISSING GUEST (1938)
and HOLLYWOOD CAPERS (1935)
THE MISSING GUEST starring Paul Kelly and Constance Moore. Murder and mystery are in the air when "Scoop" Hanlon, a wisecracking New York newspaper reporter, is assigned to spend a dark and stormy night in the haunted Baldrich Mansion. No one has dared spend the night in twenty years - since the last guest was found dead. Featuring a sinister gun-toting butler, a couple of crooked private eyes and a creepy organ that plays itself in the cellars, this is a thoroughly entertaining horror/comedy/mystery thriller!
HOLLYWOOD CAPERS This cartoon features Beans ("of the Boston Beans"), who tries everything he can think of to sneak into a movie studio, with each attempt foiled by the mean security guard. He finally gets in by disguising himself as Oliver Hardy! After falling from a catwalk, he accidentally awakens the Frankenstein monster who goes on a wild rampage! A lot of fun with animated cameos by W.C. Fields and Charlie Chaplin!
---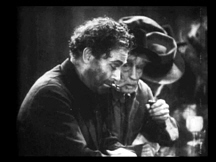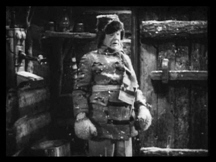 TEN NIGHTS IN A BAR-ROOM (1930)
and THE FATAL GLASS OF BEER (1933)

TEN NIGHTS IN A BAR-ROOM starring William Farnum and Tom Santschi. Farnum and Santschi recreate their famous fight scene from THE SPOILERS in this film which chronicles a good man's descent into the horrors of alcoholism. Although this is a melodrama which extols the virtues of temperance, it suffers from none of the stiffness you'd expect from a morality tale from the early sound era. It's actually quite lively and well paced with good comedy relief, music, singing and dancing. Very entertaining and quite a surprise! The original film material shows its fair share of wear, but not enough to interfere with your enjoyment of the movie. Recommended!
THE FATAL GLASS OF BEER starring W.C. Fields, Rosemary Theby, George Chandler and Rychard Cramer. Directed by Clyde Bruckman. Speaking of temperance, who better to teach us about the evils of drink than W.C.Fields? Through song and flashback, Fields (a poor miner in the frozen north) tells the story of his son, Chester, who was coerced into taking a drink and thus ruining his life. This film parodies all of the hammy, melodramatic elements of the morality tale that TEN NIGHTS IN A BAR-ROOM so skillfully avoids. The result is - simply put - hysterical! This is easily one of the funniest films ever made!
By the way, Rosemary Theby plays the long-suffering wife in both films.
---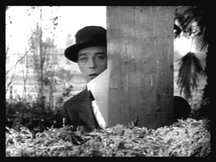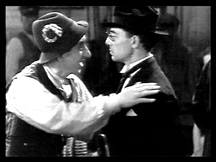 TEMPORARILY UNAVAILABLE
BUSTER KEATON AT THE SPEED OF SOUND
MR. KEATON AT MGM DOUBLE FEATURE!
PARLOR, BEDROOM AND BATH (1931)
and SPEAK EASILY (1932)
PARLOR, BEDROOM AND BATH starring Buster Keaton, Charlotte Greenwood, Reginald Denny and Cliff Edwards. Directed by Edward Sedgwick. Virginia refuses to marry her sweetheart, Jeff, unless her older sister, Angelica, gets hitched first. The problem is Angelica prefers the untrustworthy, playboy type. Jeff runs into Buster (literally), and convinces him to play the part of Reggie Irving, a rich Casanova and man about town who will woo and marry the picky Angela. There are plenty of laughs in this Keaton talkie as Buster undermines the whole scheme! Many of the exteriors were filmed at Buster's mansion!
SPEAK EASILY starring Buster Keaton, Jimmy Durante, Ruth Selwyn and Thelma Todd. Directed by Edward Sedgwick. This is one of Buster's best talkies in which he portrays Timoleon Zanders Post, a not very smart college professor. Under the mistaken belief that he has inherited $750,000.00, he decides to leave the shelter of his academic life to see the world and rub elbows with the common man. When he runs across a travelling show led by Durante, he decides to pay off their debts and bankroll their big Broadway debut! This presents two problems: First, the show is terrible! Second, Buster doesn't really have the money! A terrific comedy with Buster still in peak form!
This collection is presented as a two disc set. Specially priced at $25.00.
---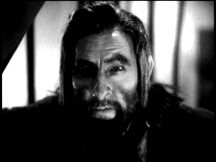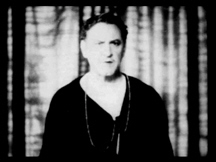 SVENGALI (1931)
and HAMLET SCREEN TEST (1937)
SVENGALI starring John Barrymore, Marian Marsh, Donald Crisp, Bramwell Fletcher and Lumsden Hare. Directed by Archie Mayo. Svengali, the evil hypnotist, destroys the will of Trilby and forces her to leave the people she loves to tour the world as a great singer. With plenty of atmosphere and creepy settings, this film was directed in an unusual Germanic style and will surely please any fan of the supernatural cinema. Our version contains the rare, and often censored, nude scene showing Trilby in a coach draped only in Svengali's cloak! Also see TRILBY in our "Silents" section for a great version of this story filmed in Fort Lee, NJ in 1915.
HAMLET SCREEN TEST starring John Barrymore, Donald Crisp and Reginald Denny. This screen test is all that remains of the greatest Hamlet. A test for a film which, unfortunately, was never made. A fascinating glimpse at what could have been! Being very rare, the quality of the original film source is only fair.
---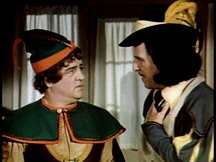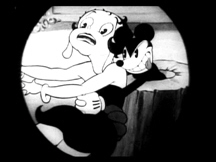 JACK AND THE BEANSTALK (1952)
and JACK AND THE BEANSTALK (1931)
JACK AND THE BEANSTALK (1952) starring Bud Abbott, Lou Costello, Buddy Baer and Dorothy Ford. Directed by Jean Yarbrough. In one of their only color film appearances, Bud and Lou star in this wonderful adaptation of the beloved fairy tale. Lou, of course, is Jack - the dimwitted young fellow who trades his family's cow for a handful of "magic" beans. While Bud, naturally, is the sly, cheap butcher who plans to get the cow. When the beans really do turn out to be magic, Bud and Lou climb the beanstalk to defeat the giant who has been terrorizing the village for years! Full of great comedy and music, this is a delightful film. The quality is top notch and the SuperCineColor process is lovely! Originally released in sepia-tone at the beginning and end, our version is black and white during these sequences.
JACK AND THE BEANSTALK (1931) When Bimbo's cow gets bopped on the head by a huge stogie dropped by the giant in his cloudy domain, he decides to plant his magic beans, climb the beanstalk and give the giant a piece of his mind. When he arrives, he discovers he must also save lovely Betty, who is being held prisoner! A crazy surreal romp! Lots of fun!
---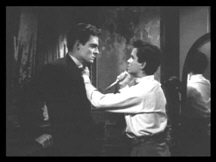 THE VICIOUS YEARS (1950)
One of the last theatrical films directed by Robert Florey (The Cocoanuts, Murders in the Rue Morgue). Starring Tommy Cook, Gar Moore, Eduard Franz and Sybil Merritt. THE VICIOUS YEARS is the story of Mario, a young, homeless hoodlum who witnesses a murder. Intent on blackmail, he tracks the murderer to his home. But it's not money Mario wants, the price of his silence is good food and a roof over his head. To keep Mario quiet, the murderer must let him live in his home with his family. It's only a matter of time before this tense situation boils over!
---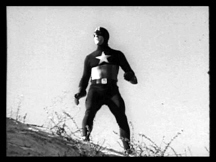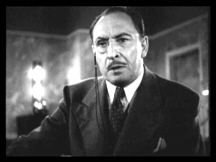 TEMPORARILY UNAVAILABLE
CAPTAIN AMERICA (1944) (Re-issued as RETURN OF CAPTAIN AMERICA)
Starring Dick Purcell, Lorna Gray and Lionel Atwill. Captain America does battle with the evil Scarab and his minions in this fast-paced, edge-of-your-seat serial from the heyday of the "continued next week" chapter films! Plenty of fisticuffs, crashes and explosions - even the dead are brought back to life! Lionel Atwill at his sinister best! Look for Edward Van Sloan in an uncredited part. 15 chapters.
For the very best in quality, this serial is presented as a two disc set. Specially priced at $25.00.
---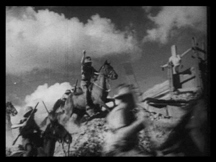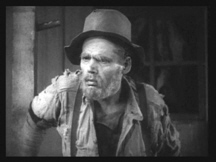 FORTY THOUSAND HORSEMEN (1941)
and HENRY HULL: TOBACCO ROAD SCREEN TEST (1933)
FORTY THOUSAND HORSEMEN starring Grant Taylor, Chips Rafferty, Pat Twohill and Betty Bryant. Directed by Charles Chauvel.
Taking place during the first world war, this film chronicles the adventures of three soldier buddies and Juliet, a wine merchant's daughter, who disguises herself as a boy to escape detection by the German forces. Despite the romance, this pioneering Australian production portrays the exploits of the Anzacs, the famous cavalry force of Australia and New Zealand. Several epic desert battles are re-staged on a truly grand scale!
TOBACCO ROAD SCREEN TEST Henry Hull created the role of Jeeter Lester in the original Broadway production of Tobacco Road and played the part for 233 performances. This rare test, made by MGM in New York, gives us a captivating sample of Hull's portrayal in several scenes. A film version was finally released by Twentieth Century Fox in 1941 under the direction of John Ford (with Charley Grapewin in the Lester role). A unique and fascinating glimpse of what could have been...
---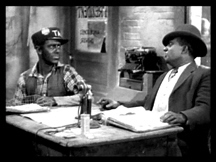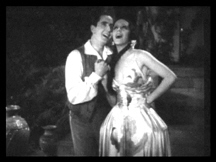 CHECK AND DOUBLE CHECK (1930)
and MOONLIGHT AND ROMANCE (1930)
CHECK AND DOUBLE CHECK starring Freeman Gosden and Charles Correll. Directed by Melville Brown. The original Amos 'n' Andy appear together in their only starring feature film. The boys make a deal with Kingfish to take Duke Ellington and the Cotton Club Orchestra to entertain at a high society party in their Fresh Air Taxi. Later they attend a meeting of the Mystic Knights of the Sea and find themselves elected to visit a haunted house in the dead of night! Although Gosden and Correll's blackface characters are considered politically incorrect by today's standard, they were beloved by millions of all races whom they entertained with their gentle humor.
MOONLIGHT AND ROMANCE starring Rosita Moreno and Nino Martini. Directed by Victor Heerman. In this early musical short, a wandering troubadour serenades his lady love and together they share an evening filled with song, dance and, of course, romance!
---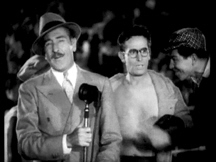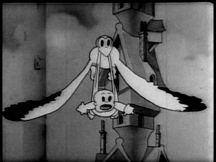 THE MILKY WAY (1936)
and SHUFFLE OFF TO BUFFALO (1933)
THE MILKY WAY starring Harold Lloyd, Adolphe Menjou, Helen Mack and Lionel Stander. Directed by Leo McCarey. A meek milkman accidentally knocks out the middle weight boxing champion of the world! In a ruse to have his client regain his title, the boxer's manager arranges fixed fights for the milkman who soon comes to believe he really is a great boxer! One of Lloyd's best and most delightful sound films. Simply wonderful and charming on all counts! A real knockout!
SHUFFLE OFF TO BUFFALO in this snappy early Warner Brothers cartoon we get to see where babies really come from - a baby factory manned by dwarves, of course! Before the storks arrive to begin their deliveries, we're treated to some toe-tapping tunes and a performance by Eddie Cantor in disguise!
---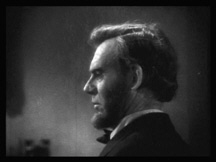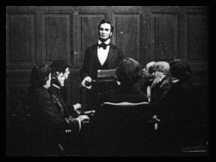 ABRAHAM LINCOLN (1930)
and THE LIFE OF ABRAHAM LINCOLN (1915)
ABRAHAM LINCOLN starring Walter Huston, Kay Hammond, Una Merkel and Ian Keith. Directed D.W. Griffith. The life of the famous American President from his roots as a poor railsplitter to his tragic assassination. One of only two sound features directed by Griffith, this feature is often unjustly overlooked. Griffith, even at this primitive stage of the evolution of "talkies", proves that he has a firm grasp on the concept of sound and uses it to his advantage. He successfully marries dialogue with his great silent techniques. The brilliant photography, the set pieces, the bits of comedy, even the epic battle scenes are all here exhibiting the master's touch. Add the magnificent performance by Walter Huston as Lincoln and you have a wonderful, entertaining and moving film.
THE LIFE OF ABRAHAM LINCOLN (1915) starring Frank McGlynn. This silent film produced by Thomas Edison portrays the life of Lincoln through a series of vignettes. We see his courtship and marriage, his rise in politics, the famous address at Gettysburg and, of course, his assassination at the hands of John Wilkes Booth.
With a new violin score performed and improvised by Ted The Fiddler!
---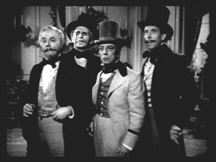 THE LOVABLE CHEAT (1949)
and BELL & HOWELL'S NEW FILOMSOUND 202 PROJECTOR (1952)

THE LOVABLE CHEAT stars the always genial Charles Ruggles who turns in a delightful performance in the title role of this period parlor romp adapted from a Balzac play. Monsieur Mercadet (Ruggles), his wife (Iris Adrian) and daughter (Peggy Ann Garner) are living the good life in a lovely mansion staffed with servants and headed by a proficient butler (Alan Mowbray). But all is not well behind the scenes - as Mercadet has been left penniless by his business partner who may or may not return - and so he is forced to contend with creditors at every turn - a perpetual dance of which he has become quite masterful. Buster Keaton appears in a featured role as Ruggles chief creditor - whose new false teeth manage to put him at a constant disadvantage at inopportune moments.

BELL & HOWELL'S NEW FILOMSOUND 202 PROJECTOR: Bell & Howell was long a trusted name in motion picture equipment - both in the professional field and the home market. This promotional film (clearly produced for "in-store" demonstration) touts the wonders of the new 16mm Filmosound model 202 projector. What set this machine apart from conventional home projectors was it's ability to allow the user to record - and if so desired, re-record - sound on any film (once striped with magnetic coating) while still retaining the film's original optical soundtrack! An innovative relic of another time.
---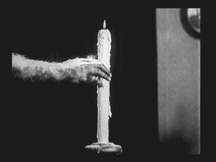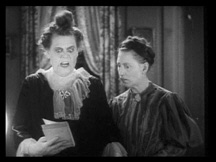 THE MONSTER WALKS (1932)
and DANGEROUS FEMALES (1929)

THE MONSTER WALKS starring Vera Reynolds, Rex Lease, Mischa Auer, Willie Best, Martha Mattox, Sidney Bracey and Sheldon Lewis. Directed by Frank Strayer. A very impressive cast populates this creepy "old dark house" thriller. When Philip Earlton dies, his family and servants gather in his gloomy mansion for the reading of his will. It's a violent, stormy night. A series of horrible murders is triggered when the sole heir is revealed. Who is the killer? Is he human or...something else?

DANGEROUS FEMALES starring Marie Dressler and Polly Moran. Sarah Bascom and Tibby Cram share a rural, country home. Their peaceful existence is interrupted by the arrival of "The Wolf", an escaped, dangerous killer disguised as a traveling evangelist they were expecting. Or maybe he really is the evangelist? Hysterical, drunken mayhem ensues when Sarah decides to find out for sure. A simply terrific thriller/comedy from the early sound era. Produced by Al Christie.
---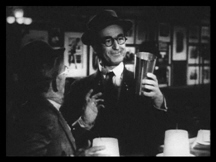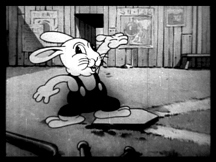 THE SIN OF HAROLD DIDDLEBOCK (1947)
and GOING PLACES: CARTOONLAND MYSTERIES (1936)

THE SIN OF HAROLD DIDDLEBOCK starring Harold Lloyd, Jimmy Conlin, Edgar Kennedy, Franklin Pangborn, Margaret Hamilton, Raymond Walburn, Lionel Stander, Rudy Valee and Frances Ramsden. Directed by Preston Sturges. This, Harold Lloyd's final starring feature, is built upon a brilliant idea. What would happen to Lloyd's college hero character from his 1925 classic "The Freshman" 20+ years in the future? The answer is, a lot! While down on his luck, Harold partakes of a mysterious cocktail that bears his name. While under its influence he encounters crazy characters, amasses a fortune in gambling winnings and buys a circus - none of which he can remember the following day! A very entertaining film with lots of laughs, a tremendous cast and a legendary director. It was later released in a terrible re-cut version called "Mad Wednesday".

GOING PLACES: CARTOONLAND MYSTERIES narrated by Lowell Thomas. This short film, number 18 in Universal's "Going Places" series, takes us behind the scenes at the Walter Lantz studio to see how an Oswald the Rabbit cartoon is made. There's plenty of fun seeing the artists and animators work and learning how the sound track and sound effects are produced.



---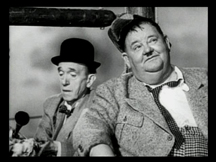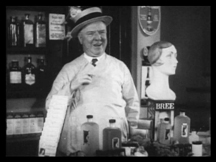 UTOPIA (1951)
and THE PHARMACIST (1933)

UTOPIA starring Stan Laurel, Oliver Hardy, Suzy Delair, Max Elloy, Adriano Rimoldi and Michael Dalmatoff. Directed by Leo Jaonnon. The final feature film starring Laurel and Hardy. Unjustly reviled because of Stan's sometimes shocking appearance due to illness, UTOPIA is actually a very good film. Tackling more mature themes than the usual Stan and Ollie fare like taxes, laws and personal freedom, there are still plenty of classic L&H gags, routines and laughs reminiscent of the team's best work. An international production with everyone in the cast dubbed to English with the exception of Stan and Ollie, this film is also known as "Robinson Crusoeland" and "Atoll K". Our release is the standard American 82 minute version.

THE PHARMACIST starring W.C. Fields, Elise Cavanna, Marjorie Kane and Grady Sutton. As the owner of a very unprofitable pharmacy, Fields lives in an hysterically surreal world in which his daughter shakes martinis with her pogo stick and eats the family's pet canary. The few customers who visit are either overbearing, bullying, or insane and, before long, a gunfight erupts. A great and very funny film produced by Mack Sennett.
---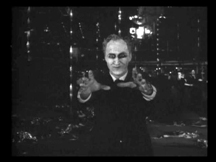 CARNIVAL OF SOULS (1962)
and WOT A NIGHT (1933)

CARNIVAL OF SOULS starring Candace Hilligoss, Sidney Berger, Herk Harvey and Frances Feist. Directed by Herk Harvey. Following a nasty car crash, a young woman decides to start life anew, taking a job as a church organist in a distant town. She soon finds herself drawn to a mysterious abandoned pavilion and begins to have encounters with the living dead. A low budget horror favorite that works on every level, this film conveys a real sense of dread and mystery as it unfolds to its shocking conclusion.

WOT A NIGHT Produced by the Van Beuren studio, this cartoon features the characters Tom and Jerry (not the later MGM cat and mouse duo) who run a taxi service and find themselves caught in a haunted castle. Surreal, outrageous and certainly not politically correct, this cartoon is hilarious and shocking by turns. Crazy entertainment!

---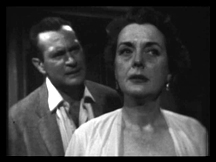 SUNSET BOULEVARD (1956)
and MASTERS IN ART AND CLAY (1964)
SUNSET BOULEVARD (1956) Starring Mary Astor, Darren McGavin, Gloria DeHaven and John Griggs. Introduced by Robert Montgomery. This ultra-rare TV adaptation of the famous Hollywood fable was originally aired live as part of the "Robert Montgomery Presents" anthology series on NBC. Aging former silent movie queen, Norma Desmond, is a conniving, needy woman who ensnares a young screenwriter (Joe Gillis - played by McGavin) and keeps him a virtual prisoner in her creepy old Hollywood mansion. Unfortunately, Norma is also very jealous and on the verge of madness. When Gillis finally asserts his independence, the results are deadly. This rendition is a true find. The acting is superb and it compares very favorably with Billy Wilder's classic big screen version of 1950.
Digitally mastered from an original 16mm Kinescope
MASTERS IN ART AND CLAY (1964) Starring John Griggs and Jack Gilford. John Griggs (who portrays Sheldrake in our "Sunset Boulevard", but will be best remembered as Ralph Kramden's boss on "The Honemooners") takes us on a color tour of England's Spode china works. We learn how Spode fine China and dinnerware have been made since the company was founded in 1767.

---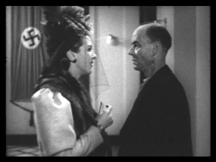 THE LISBON STORY (1946)
and LAND OF COTTON (1936)

THE LISBON STORY starring Patricia Burke, David Farrar, Lawrence O'Madden, Joan Seton and Walter Rilla. Directed by Paul L. Stein. During the Nazi occupation of France, a British spy goes deep undercover to rescue an important atomic scientist from a concentration camp. He is assisted by a group of loyal stage performers who are willing to lay down their lives to thwart the enemy. Based upon the successful stage production, this lively film version delivers plenty of intrigue and an exciting climax!

LAND OF COTTON This 1936 entry from the "March of Time" series explores the American southern states' reliance on cotton as the single viable cash crop. The plight of the sharecropper is investigated, stuck in a never ending cycle of poverty and dependency on the landowners. When the sharecroppers attempt to organize, unemployment, beatings and murder are the result. Beautifully shot on location and using locals as talent, this short is a fascinating snapshot of a problematic and troubling time in United States history.
---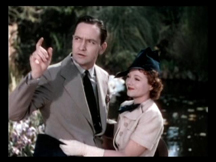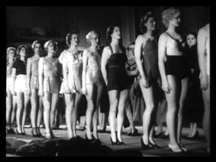 A STAR IS BORN (1937)
and BROADWAY HIGHLIGHTS (1935)
A STAR IS BORN starring Janet Gaynor, Fredric March, Adolphe Menjou, Lionel Stander and Edgar Kennedy. Directed by William Wellman and produced by David O. Selznick. Lavishly produced and brilliantly acted by a stellar cast, A STAR IS BORN is a landmark film in the career of producer David O. Selznick, who made many of Hollywood's greatest films including GONE WITH THE WIND. It tells the story of Esther Blodgett, a country girl who dreams of stardom in Hollywood. After making the journey her dreams come true when she becomes Vicki Lester, one of Hollywood's royalty, who marries Norman Maine (March) the handsome, popular leading man. Before long she sees through the glitter and hypocrisy as her husband's career comes to an end and he descends into alcoholism. Produced in Technicolor, very poor copies of this film have circulated for years. The Reelclassicdvd version is of very high quality.
BROADWAY HIGHLIGHTS starring Earl Carroll, Sophie Tucker, Al Jolson, Jack Benny, Jack Dempsey, Rudy Vallee, Fanny Brice and more. Narrated by Ted Husing. A tour along the "Great White Way" and other notable locations around New York. We visit many of the great stars of stage and screen as they make public appearances, attend ceremonies and appear on radio programs of the day. Lots of fun!
---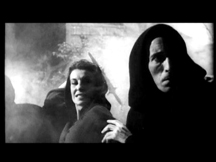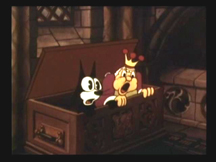 HORROR HOTEL (1960)
and BOLD KING COLE (1936)
HORROR HOTEL starring Patricia Jessel, Christopher Lee, Vanetia Stephenson, Betta St John and Dennis Lotis. Directed by John Llewellyn Moxey. With the encouragement of her college instructor, young Nan Barlow decides to visit the mysterious town of Whitewood to conduct research on the New England witch trials of the 1690s. She takes lodging at the creepy Raven's Inn, run by the equally creepy Mrs. Newless. When Nan fails to return from her trip her brother, joined by her boyfriend, journey to Whitewood themselves in hopes of finding her. It isn't long before they uncover a secret coven of blood-drinking witches and find themselves in danger of being sacrificed to Satan! One of the very best films of the genre, "Horror Hotel" is full of chills and suspense! Presented in its original wide-screen format.
BOLD KING COLE directed by Burt Gillett. Felix the Cat, being caught in a fierce thunderstorm, seeks shelter in the castle of King Cole, a terrible braggart who claims to fear nothing. The castle ghosts, however, are tired of his behavior and decide to teach him a lesson by literally beating the bluster out of him! A delightful entry from the Felix the Cat series produced by the Van Beuren studio.
---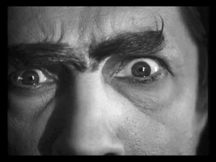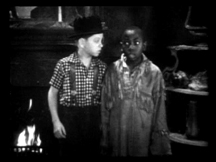 WHITE ZOMBIE (1932)
and MICKEY'S COVERED WAGON (1933)
WHITE ZOMBIE starring Bela Lugosi, Madge Ballamy, John Harron and Robert Frazer. Directed by Victor Halperin. Aside from Lugosi (fresh from his first starring roles at Universal), this low budget production really didn't have many advantages. The result, however, is one of the best horror films of the era. Loaded with creepy atmosphere and nightmarish zombies, the film tells the story of Madeline and Neil, a young couple who plan to be wed in voodoo beset Haiti. What they don't know is that the rich and very jealous Charles Beaumont wants Madeline for himself and he will resort to anything to have her! When Madeline mysteriously "dies" on her wedding night, a series of supernatural events are unleashed by the evil Murder Legendre!
MICKEY'S COVERED WAGON starring Mickey Rooney, Billy Barty and Jimmy Robinson. Directed by Jesse Duffy. This film is an entry from the long running (1927 to 1934) Mickey McGuire series. Mickey and the gang begin an elaborate search for buried treasure complete with animal driven vehicles. A rich, spoiled rival tries to stop them by blowing them up! When a terrific thunderstorm ruins their plans, the gang take shelter in a haunted house and are terrified out of their wits by the spooky inhabitants!
---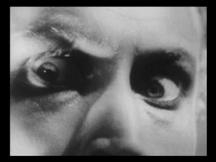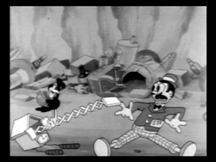 REEFER MADNESS (1936)
and A GREAT BIG BUNCH OF YOU (1932)
REEFER MADNESS starring Dave O'Brien, Thelma White, Dorothy Short, Lillian Miles and Kenneth Craig. Directed by Louis J. Gasnier. Originally released as "Tell You Children", this low-budget exploitation film was intended as a stern warning to American youth about the dangers of marijuana. By today's standards, however, it is simply hilarious! Hammy over-the-top acting combined with a plot featuring illicit sex, murder, wild parties, suicide and insanity make for an unforgettable viewing experience!
A GREAT BIG BUNCH OF YOU Directed by Rudolf Ising. When a mannequin is sent to the city dump, he magically comes to life. With the assistance other assorted junk and a few local animals, the mannequin improvises a piano and belts out the title tune. Lots of singing, dancing and toe-tapping fun in this early Warner Brothers entry!
---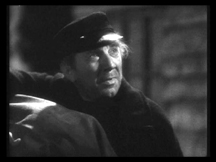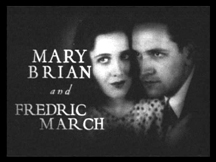 PHANTOM SHIP (1936)
and EARLY TALKIE TRAILERS (1929)
PHANTOM SHIP starring Bela Lugosi, Arthur Margetson, Shirley Grey, Edmund Willard and Dennis Hoey. Directed by Denison Clift. Also known as "The Mystery of the Mary Celeste". Everyone's favorite vampire goes to sea in this entertaining British production which presents a possible answer to the 1872 mystery surrounding the derelict vessel. Bela portrays a secretive sailor bent on revenge. When crew members begin to disappear one by one, it becomes clear that a murderer is among them - but who is it? A nicely made, fast moving melodrama with plenty of action and atmosphere.
EARLY TALKIE TRAILERS Rare scenes and dialogue are presented in these coming attractions from three great features of 1929!

"The Marriage Playground" starring Frederic March, Mary Brian, Lilyan Tashman, Kay Francis and Anita Louise. Directed by Lothar Mendes.
"Dangerous Women" starring Clive Brook, Olga Baclanova, Neil Hamilton and Leslie Fenton. Directed by Rowland V. Lee.
"The Sky Hawk" starring Helen Chandler. Directed by John G. Blystone. Great World War I scenes and air action over London with Dirigibles!
---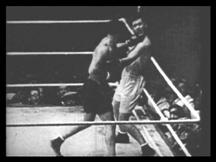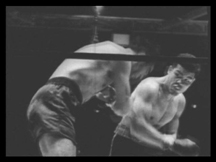 AN EVENING OF GREAT VINTAGE BOXING
Spanning boxing's golden era from 1919 to the 1940's, this DVD contains highlights from some of the greatest bouts of the 20th century. Featuring the greatest fighters ever to enter the ring, the cast of characters reads like a who's who of boxing legends. You'll see bouts with Jack Dempsey, Joe Louis, Kid Chocolate, Gene Tunney, Max Schmeling, Jess Willard, Jersey Joe Walcott, Jack Sharkey and Benny Leonard – to name just a few. Here's a unique look at boxing's renowned greats in action! A terrific and exciting evening's entertainment!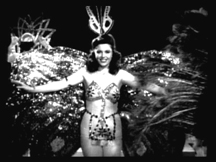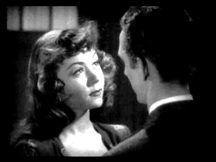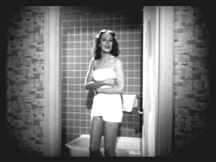 SENSATIONAL SOUNDIES!
Starring The Modernaires, Grace Barrie, Gloria Graham, The Four Sons and Walter Liberace. Slightly naughty and rather risque' fort their time, Soundies were the origianl music video. These 16mm musical shorts were shown on a video jukebox known as the Panoram. They were an extremely popular form of entertainment throughout the 1940's. The Soundies were a unique way to see and hear favorites like Duke Ellington, Cab Calloway and Count Basie, but they also served as a launching pad for many performers who would go on to become big stars like Alan Ladd, Gloria Graham, Ricardo Montalban, Liberace, Yvonne DeCarlo and many others. SENSATIONAL SOUNDIES includes 34 of these musical delights. 96 minutes of toe-tapping fun!

---

CLICK HERE FOR THE EASTSIDE KIDS
SPECIAL EDITIONS
WITH MORE SHORTS AND CARTOONS!